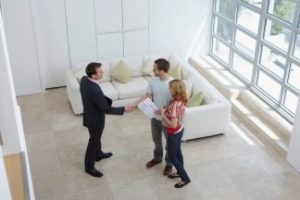 At the tail end of the workweek, CNBC added its voice to the pack of observers who have decided that residential real estate is now less likely to suffer a sustained downdraft. Shortly after noon on Friday, CNBC released Emmy award-winner Diana Olick's commentary on U.S. home prices "as mortgage rates fall." For area homeowners who have hesitated to list their properties lest they face a sustained downturn in Houston real estate prices, it made a convincing argument that this year's spring selling season may indeed be closer to a traditionally strong showing than had been thought likely.
Earlier in the week there had already been signs that January's mostly glum forecasts might have been overblown. Interest rates had dropped for the fifth week in a row, causing mortgage refinance demand to jump 18%. That followed a week of quickening overall mortgage demand, which, according to the Mortgage Banking Association, had grown by 7.4%. After acknowledging that the U.S. housing market had indeed "cooled off pretty dramatically last year," Olick reminded her audience that home prices themselves "had been stickier." Even last December, national home prices had risen 6.9% over the previous year's—it was only "negative" when compared with the hyperbolic 20% leap of 12 months earlier.
More signs of underlying strength were evidenced by a little-noted Fannie Mae survey which reported an increase in consumers' homebuying sentiment for the third consecutive month. That added to the finding of an increase in the share of those "who think it's a good time to sell a home" by 8%—now amounting to an unambiguous 59% majority.
Furthermore, homebuilders were now reporting increased demand—resulting in a turnaround toward optimism in the National Association of Home Builders' ranks. NAHB's Chief Economist credited mortgage rate movement with the increase. He also foresaw rates continuing "to trend lower later this year." That wouldn't conflict with last week's Friday closing rate increase: the "later this year" was in anticipation of the final period of the Fed's anti-inflation campaign—hopefully followed by rate easing.
The headline for CNBC's mostly sunny commentary spotlighted the home price/mortgage rate connection: "Here's what's happening with home prices as mortgage rates fall." "What's happening" across the nation had been spelled out in CNBC's first bullet point: "…home prices nationally were 6.9% higher year over year…" For local owners who had assumed the inevitability of bleak future prospects, the wider picture held evidence that a second look might be in order. On that score, we can help with an up-to-the-moment analysis of comparable Houston real estate price data. Call Rinnovare Realty, LLC at (832) 445-4957 or visit us at www.rinnovarerealty.com .